Miss USA 2007 Lauren Nelson
The new Miss USA 2007 is Lauren Nelson from Lawton, Oklahoma.

Lauren Nelson was crowned Miss America at the pageant in Las Vegas.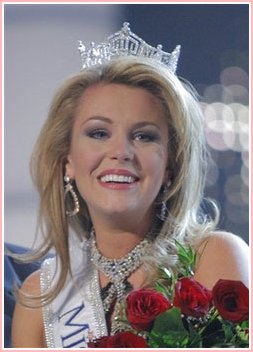 After receiving her crown, Lauren Nelson said "I've been watching Miss America on television since I was a little girl, never in my wildest dreams would I have believed I would be Miss America."

The 20-year-old blonde will receive a $50,000 scholarship and could collect a lot more than that in endorsements and appearance fees.

I can't believe more than three months have already passed since I was crowned Miss America 2007 in Las Vegas. It's been more exciting than I could have ever imagined. I knew there would be flashing bulbs, shaking hands and lots of plane rides, as well as aching cheek muscles from all that smiling! Here's what I didn't know: just how much history has come before me and all the good feelings that greet me as the new Miss America. The last three months have been a whirlwind that began with my New York media tour. I'm so excited to promote such wonderful organizations as the Children's Miracle Network and our Miss America Organization.

This is going to be an amazing year for me and I hope to accomplish wonderful goals and continue my work to keep children safe on the Internet. As you may know, my voice is my talent and this year, my voice speaks to all children across this country. Recently, I attended the Champions Across America Event with CMN miracle kids from around the country. We met in Washington and even had the opportunity to meet with President Bush. Then, we were off to Orlando to celebrate the biggest event of the year with the Children's Miracle Network family where I presented these wonderful children with Miracle Award Medals for their incredible strength and courage.