Trash Film Festival 2
Trash Film Festival is a festival specialized for low-budget movies, primarily for those films that contain strong action, martial-arts, horror and science fiction attributes, which means that exaggeration in those attributes is desirable.

The aim of the festival is to gather filmmakers and film enthusiasts, amateurs as well as professionals, who enjoy the entertaining component of the kinematics, and to reward them for their contribution to film magic.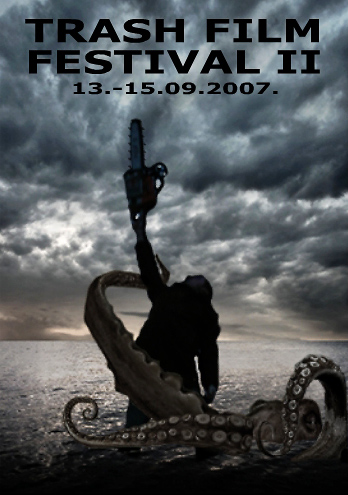 1. TRASH FILM FESTIVAL will take place in Varaždin, Croatia, from 13th-15th of october 2007. Right to participate on the Festival have all professional and nonprofessional film and/or video makers.

2. Each participant can participate with two films maximum. All films can be admitted regardlessly of the time of their production.

3. Duration of a film is not limited.

4. All films must be delivered in DVD-VIDEO format. Each movie must be delivered on its own DVD.

5. All films screened during the Trash Film Festival must be approved by the Board recognized by the society "Udruga Trash" that will evaluate films as regularly submitted and technically compatible.

6. DVD'ies will be returned only if they were sent with international postal coupons.

7. An application, besides DVD , must contain:
- the application form, legibly filled up, with all required information
- CV and filmography of the director
- extra CD with one or two screenshots of your film for the catalogue and other printed material which will be used exclusively for the festival promotion. It is also recommended to submitt short trailer max.15 sec.

8. In the case of incomplete or ilegible application, your film will not be admitted.

9. All films must be subtitled in English.

10. Submission deadline is July 15th 2007. The application form and video should be sent at the applicant's expense to the following address:

Udruga Trash
"za Trash Film Festival"
P.P. 13
42 001 Varaždin - CROATIA

On the package sent, there must be visible: "No Commercial Value".

11. All expenses, as well as the risk of transportation damage, are on the sender. The organizer of the Trash Film Festival does not take any responsibility for the film transportation.

12. Awarded film will be copied on the expense of the organizer and will be retained by the organizer for the purpose of documentation in the archive of the Trash Film Festival. Any commercial use of these materials is prohibited.

13. No fees or compensations will be paid to authors or producers for screening. The organizer holds the right of screening excerpts of a selected film on the Internet and TV for promotional purposes.