Hundreds of Burmese protesters feared dead
Horrific claims of torture, mass arrests and government soldiers acting under the influence of drugs have emerged from Burma.
Burmese monks told not to risk defiance
Analysis: Nothing changes while the army keeps on killing
In pictures: Exclusive photos from the protests

A man listens to news while another reads a paper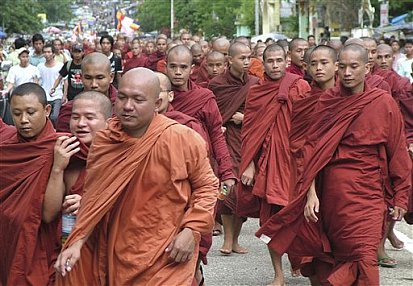 Burmese activists in exile in neighbouring Thailand have revealed harrowing accounts of violence, despite the ruling junta's attempts to cut off the outside world.
Pro-democracy groups say that the true death toll from the military crackdown in the country also known as Myanmar is in the hundreds, not the 10 admitted to by the regime.

The dramatic reports were impossible to confirm, but there was concern over the fate of the hundreds of monks arrested in raids on the Ngwekyaryan Monastery in eastern Rangoon on Wednesday and Thursday night. According to exiles, some 270 monks are believed to be detained at Kyeikkasan, a former racecourse in the north-east of Rangoon that is being used as an internment camp by the authorities.

The exiles say that people who live nearby heard screams and cries for help. They claim the monks are not being fed and the injured are not receiving medical attention.

"We have inside information that the monks are starving and that some are badly hurt. It's a kind of torture," said one source in Bangkok, who wished to remain anonymous because of his involvement in the 1988 student uprising. There are unconfirmed reports that the elderly chief monk of the Ngwekyaryan Monastery died, either during Thursday night's raid or after arriving at Kyeikkasan.

There are also claims that schoolchildren have been caught up in the violence. Protesters had gathered outside High School No.3 in the Tamwe Township in north Rangoon on Wednesday afternoon, just as school was finishing. Children leaving the school and their parents became mixed up with the demonstrators and some were reportedly arrested after soldiers ordered the crowd to disperse. Witnesses claimed two people were shot dead.

Many of those injured were not being taken to hospital, but directly to Kyeikkasan or to Rangoon's City Hall, which is being used as a temporary detention centre. Burmese exiles are claiming that an unknown number of people have died through not receiving medical treatment.

As the international clamour of protest at the regime's actions grew, it emerged that President George W Bush had called on China to force the Burmese junta to abandon power and leave the country for exile in Beijing as Western powers and pro-democracy groups attempt to capitalise on last week's dramatic street protests.

Mr Bush proposed the escape route for the military rulers in talks with China's foreign minister, Yang Jiechi, in the Oval Office on Thursday, US officials said last night.

The First Lady, Laura Bush, is taking a key role in the campaign and may threaten to boycott next summer's Beijing Olympics in an effort to embarrass the junta's most powerful foreign ally.

There was more limited violence in Rangoon yesterday as a few hundred demonstrators returned to the streets. The British ambassador, Mark Canning, told the BBC there was an extremely heavy military presence and he saw two severe beatings of protesters, one a middle-aged woman.