Amanda Peterson - What Ever Happened To Amanda Peterson?
Good sportsmanship is a lot like the weather -- everybody talks about it, but nobody does much about it.

Not so with Glenbard East High School girls volleyball coach Marci Maier and her junior co-captain Amanda Peterson.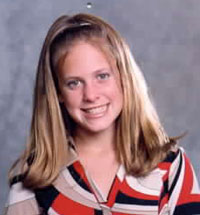 The two were awarded certificates from the Illinois High School Association for good sportsmanship demonstrated at the Schaumburg Varsity Tournament last fall.

"It's not something that happens everyday and it is nice to see sportsmanship recognized, at least recognized in a positive manner," Maier said. "A lot of times when you read things in the newspaper it's not always a positive side."

The IHSA took steps to remedy that by implementing their Do What's Right! Sportsmanship Program for the 2007-2008 school year. The program is designed to recognize sports programs for entire schools, but individuals can be honored as well.