Carla del Ponte Appeals Sentence of International Tribunal Against Bosnia Muslim
Amsterdam. The Chief Prosecutor of the Hague Tribunal Carla del Ponte is appealing the two years' sentence that the International Court ruled against the Bosnia Muslim Naser Oric, military commander during the war in Bosnia, Reuters reports. Spokesperson for del Ponte, Anton Nikiforov announced today that the office of the Chief Prosecutor was disappointed from court?s ruling since the prosecution had asked for 18 years' imprisonment. But Naser Oric was sentenced last month for not being able to prevent the killing of Bosnia Serbs near the Muslim enclave Srebrenica at the beginning of the war (1992-1995). Oric was released since he had already spent the term of his sentence.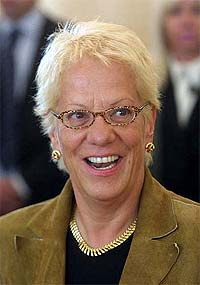 Bosnia Serbs forces took Srebrenica in July 1995 and killed some 8,000 Muslims ? men and boys and that is considered the greatest crime in Europe after the Second World War. In the meantime Serbians claim that 3,263 Bosnia Serbs were killed earlier by Muslim forces under Oric?s command, Reuters reports.