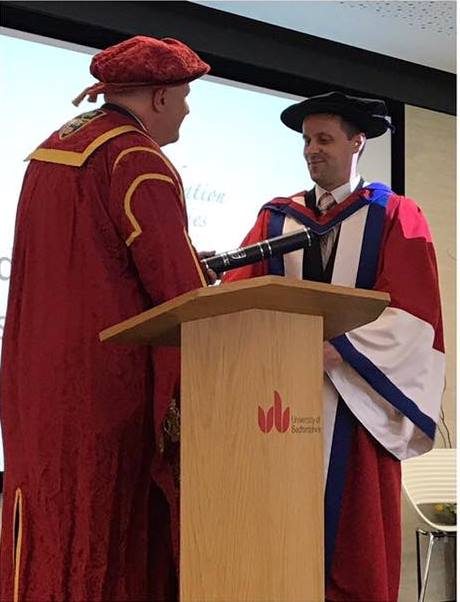 University of Bedfordshire Luton juče je na specijalnoj prezentaciji dodijeliti počasni doktorat iz oblasti filozofije gospodinu Nedžadu Avdiću iz Srebrenice za njegov doprinos u oblasti ljudskih prava. Nakon primljenog doktorata gospodin Avdić je studentima ovog univerziteta održati prigodno predavanje o ljudskim pravima i genocidu u Srebrenici. Inače, Nedžad Avdić je kao 20-godišnjak preživio streljački vod u Srebrenici, nažalost, to nije uspjelo njegovom ocu, amidži i mnogim rođacima i prijateljima. Svoju stravičnu životnu priču "Kako sam preživio strijeljanje u Petkovcima" Nedžad je podijelio sa cijelim svijetom, s nadom da se nigdje i nikada ne ponovi srebrenički genocid. Poslije strašnog životnog iskustva, Nedžad se vratio u Srebrenicu 1997. godine, završio fakultet, osnovao porodicu i zaposlio se. U svakoj prilici hrabro je dijelio svoju priču sa željom da se što dalje čuje istina o genocidu te da nove generacije nastoje odrasti u harmoniji i bez mržnje. Povodom dodjele počasnog doktorata Nedžadu Avdiću, gospodin Bill Rammell, potpredsjednik Univerziteta, istakao je da počasni doktorat došao u prave ruke jer i pored svega što je preživio, Nedžad Avdić je smogao snage da se vrati na mjesto zločina i djeluje pozitivno.
Pripremio:
Namik Alimajstorović
BHDINFODESK – Birmingham
Poštovane kolege,
BHDINFODESK iz Birminghama Vam za objavu dostavlja autorski tekst sa fotografijama "Engleska/ Uručen počasni doktorat Nedžadu Avdiću, Srebreničaninu koji je preživio genocide i strijeljanje"
Prilog i fotografije (uz navodjenje izvora informacija) možete slobodno objaviti u Vašim medijma ukoliko odgovara vašoj koncepciji.
Hvala
Lijep pozdrav
BHDINFODESK - BIRMINGHAM